5 June 2012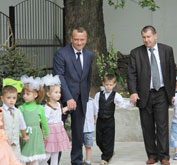 KHARTSYZSK PIPE PLANT of Metinvest Group under agreement about a socio-economic collaboration with a city carried out arrangement of territory of kindergarten "Skazka". On June, the 1st, in Children's Day, ceremonial opening of new playgrounds took place in preschool establishment. Investments in this project made about UAH 105 thousand.
KHARTSYZSK PIPE made a gift to the pupils of kindergarten «Skazka» to the holiday, putting in an order territory and equipping playgrounds. During repair works complete replacement of fence, laying of paving slab, replacement of water pipe-line, reconstruction of sustaining wall in the building, change of six peaks above entrance doors were conducted. The children's playgrounds were equipped with new swings, sand-boxes, benches.
At the ceremonial opening of new playgrounds the director general of KHARTSYZSK PIPE Iurii Zinchenko and mayor of Khartsyzsk Valery Dubovoy were present. Iurii Anatolievich traditionally came not empty-handed and presented the personal computer to the kids. The first leaders congratulated kids on a holiday and appealed to them with parting words. Children prepared the festive program to the guests, showing their talents. The happy smiles of kids became the best gift for adults.
After a holiday in kindergarten guests made their way Khartsyzsk center of socially-psychological rehabilitation of children, to congratulate charity children. Director general of KHARTSYZSK PIPE on behalf of plant-workers presented to the children 20 bed sheets and baskets with fruit and sweets.
We will remind, in 2011 KHARTSYZSK PIPE gave up to the kindergarten «Skazka» grant in a sum of UAH 50 thousand for realization of capital repairs of musical hall and acquisition of acoustic equipment for accompaniment of festivities.
«Childhood is the most wonderful period of time in life of man. Deserving and talented generation grows up, and task of adults — to provide all conditions for their height and development, in fact exactly from us depends, what fates will have these kids. In this holiday with all heart I wish to our little citizens of Khartsyzsk light carefree childhood, good, warmth and health!» — Iurii Zinchenko welcomed hospitable owners.
This year KHARTSYZSK PIPE will present two children's playgrounds to the kids of Khartsyzsk. They will be located in the yards of housing development on Chymak Str. and Krasnoznamenskaya Str in the district of «Mother\'s Avenue «.