25 May 2012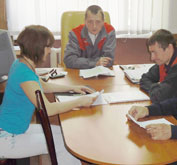 At KHARTSYZSK PIPE plant of Metinvest Group the results of the Week of labour protection were summed up. The Week was conducted on the enterprise from the 23 to 28 of April within the framework of celebration World Day of labour protection. Winners are certain in five nominations. The award fee was UAH 25 thousand.
In the period of realization of the Week the inspections of the state of industrial safety and order of handling wastes were conducted, thematic lectures for the workers of basic workshops(PEWSh-2, PWSh-4) and department on social questions were organized by the specialists of labour protection department, the most initiative subdivisions conducted thematic quizzes and sporting competitions.
On results a competition winners are certain in 5 nominations: «the Best subdivision of the plant», «the Best worker of the subdivision»," the Best brigade», «the Best public inspector», «the Best group of specialists and separate workers of the plant». On results a competition on labour protection the best subdivisions of plant are a repair-mechanical workshop (the 1st place), a department on social questions (the 2nd place), a department of technical control (the 3d place). The best public inspectors are Andrey Chevychelov — an electric welder of pipes on a mill (the 1st place), Alexander Boiko — a plater (the 2nd place), Valentin Rediko — a locksmith-repairer of energy shop (the 3d place). At working out the totals the job of subdivisions for 4 months was taken into consideration. All participants were able not only to fill in blanks and to fix knowledge in area of guard of labour and industrial safety, guard of environment but also to get money prizes.
Labour protection is one of priority directions in the activity of KHARTSYZSK PIPE. Within the framework of the works on labour protection at the enterprise the whole complex of the preventive measures (competitions, audits of safety etc.) sent to warning and declining of risks of traumatism are annually developed. An observance of rules of occupational safety and application of facilities of individual defence are those rules that every worker of KHARTSYZSK PIPE must keep.
«Prophylactic work in area of labour protection is the mortgage of success of all the enterprise, — a chief of labour and industrial safety protection department Alexander Smagin remarked. — We hope that the measures conducted in the period of the Week of labour protection will promote attention of the workers to their own safety, and all the personnel of KHARTSYZSK PIPE will be involved into a process on the achievement of primary purpose is bringing of the level of traumatism at our enterprise to nought».