16 May 2012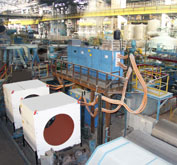 In May KHARTSYZSK PIPE of Metinvest Group completed the working upon modernization of the system of control an inductor on the first technological line of pipe-welding shop №4.
Modernization of the setting has allowed to produce substituting of the existent control system by modern one with an automated checking feature after the state of the equipment. It will promote reliability of the equipment, result in absence of failures in process, and also increase the productivity of overcoating on pipes on 20-30%.
The specialists of the department of automation of technological processes of KHARTSYZSK PIPE worked out their own project that allowed to show out the equipment on the new level of functioning. During the workings, the dismantling of greater part of constituents of the inductor was produced and modern electronic equipment with the new charts of management was mounted.
«To date we can be repose in reliability of the equipment that will not let us down during steeving and will help to execute the put tasks in the set terms. Pleasantly, that the professionals of such level, that constantly decide the heavy questions related to introduction of progressive technologies, work at KHARTSYZSK PIPE, aiming to do our enterprise modern and successful», — the director on engineering Alexander Levchenko comments.