11 April 2012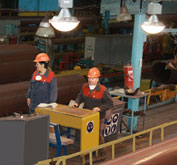 The annual competition on energy saving and effective use of fuel and energy resources is continued at KHARTSYZSK PIPE PLANT of Metinvest Group. This competition was announced by the management of Metallurgical division at all enterprises of Metinvest last year.
At the moment three proposals for participation in the competition were submitted to the committee of «KHARTSYZSK PIPE».
«Improvement of technical and economic characteristics of the illumination at the level of «0» in PEWSh-2» — this is the title of the common project of Dmitriy Gnatyuk, Head of repairs performance department, Valeriy Luchin, Deputy Chief of PEWSh-2 for power equipment, and Alexander Ivannikov, electrician of PEWSh-2. New lighting fixtures have several advantages compared with pre-existing ones and will bring savings of approximately UAH 60 thousand per month.
The similar proposal was submitted from the specialists of PWSh-4. The movers of the proposal are Evgeniy Boyko, Deputy Chief of the shop for power equipment, Oleg Buzanov, electrician, and Dmitriy Gnatyuk, Head of repairs performance department. The expected economic effect from their project will be approximately UAH 33 thousand per year.
The third proposal concerns the expander No 4 at PEWSh-2. Its movers are Pavel Sokolov, mechanic of PEWSh-2 for hydraulic equipment repair and Georgiy Uspenskiy, Head of repairs performance division. A number of proposed measures is directed not only to the reduction of consumption of fuel and energy resources but also to the increase of equipment operating life in two times.
«At our plant special attention is paid to the issue of energy saving technologies implementation," Alexander Levchenko, Engineering Director, has said. «Active participation of our employees in the competition on energy saving is one of the most effective measures in this sphere. Implemented proposals contribute to significant reduction of consumption of plant fuel and energy resources and it means that proposals increase the efficiency of company operation».