23 March 2012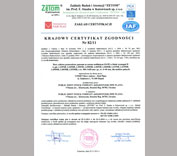 KHARTSYZSK PIPE PLANT, the part of Metinvest Group, has successfully passed the recertification audit on confirmation of capability of KHARTSYZSK PIPE PLANT to manufacture pipes in accordance with the European norm PN-EN 10208-2:2011 "Steel pipes for pipelines for combustible fluids - Technical delivery conditions - Part 2: Pipes of requirement class B". The period of validity of the license was extended till November, 2016.
On the base of positive results of the recertification audit and tests of products in the research and measuring laboratory of "ZETOM", laboratory of metallography and heat treatment of "ZDT-GLIMAG" LLC, accredited by Polish Centre for Accreditation, the plant was issued the renewed Certificate No 82/11, confirming the compliance of pipes 406-1420 mm in diameter, wall thickness of 6-40 mm (manufactured from steel grade up to L555MB inclusively) with the requirements of PN-EN 10208-2:2011 standard.
It is to be recalled that for the first time the Certificate of compliance under the standard PN-EN 10208-2 was received by the plant in August 2008 after successful certification audit. This allowed us to carry out the first delivery of pipes 711 mm in diameter, wall thickness of 14.2 mm of L415MB steel grade to Poland. Owing to the certificate received, the pilot order for production of pipes 762 mm in diameter, wall thickness of 22.2 mm of L415MB steel grade with external anticorrosion coating was fulfiled at the beginning of 2010 for the company GDF Suez Storengy C4Gas (France). As a result, Metinvest completed the qualification process in C4Gas S.A. company and received certificates confirming the qualification of the plant. These certificates entitle to supply large diameter pipes with external and internal coating to the French company C4Gas S.A.
"The Certificate of compliance of our products with the requirements of PN-EN 10208-2:2011 gives an opportunity to METINVEST HOLDING to participate in tenders held by the European companies and supply large diameter pipes to the countries of the European Union. The document allows us to keep confidence of the customers and partners and contributes to the further growth of authority of KHARTSYZSK PIPE PLANT of Metinvest Group as a manufacturer of high quality products ", Iurii Zinchenko, Director General of KHARTSYZSK PIPE, has said.