5 March 2012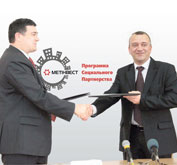 PJSC KHARTSYZSK PIPE of Metinvest Group summed up socioeconomic collaboration with Khartsyzsk town council for 2011. The investments of PJSC KHARTSYZSK PIPE in the municipal projects of 2011 made about UAH 1.3 mln. During the meeting priority directions of development of the city on 2012 was certain, a new two-sided agreement about socioeconomic collaboration between the administration of the enterprise and the town authority on the current year was concluded.
Being a town-forming and socially-responsible enterprise, PJSC KHARTSYZSK PIPE actively participates in the improvement of welfare of the town and creation of comfort terms of residence of employees of the plant, members of their families and locals. In 2011 the enterprise invested more than UAH 1.3 mln in development of municipal infrastructure, health protection, education and sport, help to territorial mass. Including UAH 300 thousand were invested on repair of municipal roads, UAH 350 thousand - on maintaining of ecological upgrading project and town garden. The ecological measures realized by the plant are permanent, successive and aimed at the improvement of ecological situation in the town and the region.
PJSC KHARTSYZSK PIPE invested UAH 212 thousand into the projects of health protection, core capital was sent to realization of repair works in the building of woman consultation and acquisition of diagnostic equipment.

The building repair of school No 6 and musical hall of kindergarten "Fairy-tale" was conducted in 2011on sponsor facilities of PJSC KHARTSYZSK PIPE. The general volume of investments in the programs of education made more than UAH 286 thousand.
On July, 17 the festive events coincided with celebration of Town Day took place at Lenin square. PJSC KHARTSYZSK PIPE brought in the contribution to realization of the municipal ceremonies, as the general sponsor of these festive events. The sponsor package made UAH 170 thousand.
"Activity of Metinvest Group is inseparably associated with the territories of presence and determines the future of a row of cities where our enterprises are town-forming, - General director Iurii Zinchenko remarked. - Developing the plan of the social investing, we line up the long-term partner relations based on the mutual personal interest and responsibility of all parties, help in a decision primary problems of townspeople.