21 December 2011 // Press centre PJSC "KHARTSYZSK PIPE PLANT"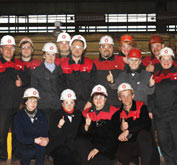 On December, 18 on PJSC KHARTSYZSK PIPE of Metinvest Group shift № 3 (Shop-2) (the chief of the shift is Mikhail Shchugorev) set the new record on the production of the prepared goods - 224 pipes for the shift.
During a productive cycle the shift produced 125 pipes measuring 1067х19, 9 mm and 99 pipes measuring 1420х15, 7 мм. Producing of the prepared products for the shift was 1 237,6 tons.

"Today we have the good loading of production capacities of the enterprise, and it means that a customer is satisfied with quality of the produced products. The labour collective of the plant does its best for the increase of rates of the production. Competitions between our shifts go every day, it disciplines people and give the personnel a jump start on the achievement of high indexes. Today shift № 3 was able to set the new record, but the employees of other shifts of the shop also have potential to be leaders on all the productive indexes", - the director of production of PJSC KHARTSYZSK PIPE Sergey Paramonov comments.