1 December 2011 // Press centre PJSC "KHARTSYZSK PIPE PLANT"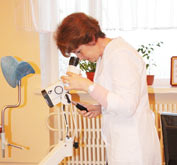 In November the central municipal hospital (CMH) of Khartsyzsk mastered the investments of KHARTSYZSK PIPE of Metinvest Group in full. In the building of woman consultation the work on repair of roofing coverage was completed. In 2011 the KHARTSYZSK PIPE invested into the development of health protection of Khartsyzsk more than 210 thousand UAH.
We will remind that in July the plant purchased modern, reliable and qualitative gynecological equipment for the woman consultation. The complete set of new equipment will allow to diagnose the diseases of woman organs, including the pre-cancer states and early stages of cancer effectively and in time and to conduct prophylactic treatment. Timely diagnostics and treatment of pathologies on the early stages, in a maximally sparing volume, will allow avoiding many complications of disease. The total sum of investments in the equipment made more than 80 thousand UAH.
"Timely consultation in gynecology is needed to avoid serious problems in the future, because woman illnesses, similarly as well as all others, respond to treatment so much the better, than they are educed before. And to find the disease already started is not difficult, but for the treatment many forces will be required, and it is not always possible to obtain the desired result, - a manager by the woman consultation Elena Sedykh comments. - Enormous thanks to the administrations of KHARTSYZSK PIPE for support, help and understanding of the situation. We invite all the women of the city in our woman consultation to pass a skilled inspection on new equipment".
" KHARTSYZSK PIPE as a social responsible enterprise of the city directs all efforts in an order to bring down the level of diseases of citizens, including the workers of the plant, 45 % is made by women", - General director of KHARTSYZSK PIPE Iurii Zinchenko commented.
Also in 2011 due to the investments of KHARTSYZSK PIPE repair works of roofing coverage were conducted in the City Sanitary Epidemiologic Office, medical preparations are purchased, educating of medical personnel is conducted on the international standard of helping at sharp cardiovascular pathology and traumas.
Metinvest as a representative socially responsible business constantly supports the improvement of the system of health protection of citizens, development of infrastructure of regions and cities of presence of enterprises of the Group. So, for period 2006-2010 KHARTSYZSK PIPE invested in development of health protection of the city about 500 thous.UAH. Facilities were used on the improvement of medical diagnostic base of the city hospital, development of material and technical base of traumatology separation, realization of repair works in building of children policlinic, organization of children recovery from socially-unprotected categories.