10 October 2011 // Press centre PJSC KHARTSYZSK PIPE PLANT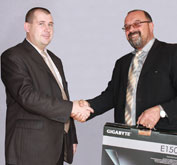 On October the 7th Khartsyzsk professional college celebrated its 45th anniversary. A delegation of PJSC KHARTSYZSK PIPE of Metinvest Group headed by the Director for Personnel and Social Affairs Roman Tsukurov took part in the celebrations on the occasion and gave portable personal computer as a gift to the educational institution.
PJSC KHARTSYZSK PIPE has been cooperating with Khartsyzsk professional college (KhPC) in the area of ​​professional training in business disciplines for many years. In 2011 the plant employed 22 graduates of KhPC.
In 2010, PJSC KHARTSYZSK PIPE invested about 10 thousand UAN in repair work in the college. The funds were used for repairing the roof of the gym in KhPC.
"At all times, the main advantage of the system of vocational education had the opportunity to acquire a profession immediately, not in theory but also in practice to master a particular speciality, which is a good start at manufacturing" - in his greeting speech said Roman Tsukurov.