4 October 2011 // Press centre PJSC "KHARTSYZSK PIPE PLANT"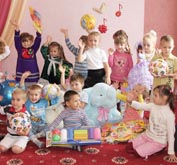 Within the framework of agreements on social and economic cooperation with Khartsyzsk Municipal Council, PJSC KHARTSYZSK PIPE of Metinvest Group provided a grant to the kindergarten "Fairy Tale" in the amount of 50 thousand UAH.to repair the music hall and purchase acoustic equipment to accompany the festivities. Today, the plant facilities have been utilized by 100%.
In the process of repair works plastering and hanging wallpapers of ceiling and walls, replacement of doors were produced in the musical hall, the necessary articles of interior were purchased. There are a musical center and a synthesizer for realization of holidays in the new hall now.
On the 3d of October a delegation of representatives of PJSC KHARTSYZSK PIPE headed by Director General Iurii Zinchenko, came to congratulate the kids on housewarming. Iurii Anatolievich presented to the kids sports inventory and educational games that children will be able to use for physical education classes and in their daily games.
"Physical education for children and development of cultural values of the younger generation are one of the major challenges facing us, adults. We are responsible for our children's future, so the investments that we inlay in the education of the healthy nation are payback, "- said Iurii Zinchenko in his speech.