28 September 2011 // Press centre PJSC "KHARTSYZSK PIPE PLANT"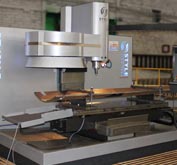 A new milling machine with the numerical control (NC) was installed at the Mechanical-Repair Shop of KHARTSYZSK PIPE PLANT of Metinvest Group. Its multifunctional performance makes possible to manufacture metal goods with different degree of complexity and configuration for needs of the whole plant. Investment to the new equipment amounted to more than UAH 743 thous.
A vertical milling machine of extra accuracy, equipped with NC system, is intended for milling operations of different goods in three extensional directions by means of the vertical spindle, circular, disc, form, face, end and keyway cutters. Owing to general-purpose work tools and high technologies it offers the possibility to process piece parts from ferrous and nonferrous metals, plastics and other materials that can be processed by cutting. NC system makes the process of spare parts manufacture fully automatic, significantly improves spare parts quality. A new machine fully meets all technical requirements that allows employees of the Mechanical Repair Shop to perform works of increased complexity quickly and in a quality manner.
"Vertical milling machines with NC render possible to solve difficult production tasks, simplifymastering the production of new types of spare parts for main shops equipment, decrease the scope of finishing works during assembling," Viktor Kudrya, the Chief of the Mechanical Repair Shop, has commented. "One more advantage of a new machine is that all operations on it are conducted with high accuracy, without large efforts and time consumption".