25 August 2011 // Press service PJSC «KHARTSYZSK PIPE PLANT»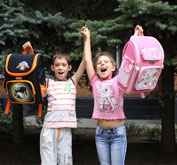 On the eve of the Knowledge Day KHARTSYZSK PIPE PLANT which is part of Metinvest Group made presents to the children of the plant employees who are the future first-graders. Thus, 70 first-graders received the school sets from the plant management, and 50 employees of KHARTSYZSK PIPE, parents of the first-graders, received the financial assistance under the terms of the collective bargaining agreement. The total cost of the campaign for the Knowledge Day amounted to approximately 90,000.00 UAH.
A school backpack with a set of stationery is a present which every young pupil received from the management of KHARTSYZSK PIPE to the Knowledge Day. The set includes: a diary, pencil case, notebooks, crayons and other school supplies.
Also to ensure social protection, namely material support of employees of KHARTSYZSK PIPE and management of non-targeted charitable assistance provision, 50 plant employees, whose wages for June 2011 was below the average wage at the plant, received the financial assistance amounting to 500 UAH from the plant management to prepare the future first-graders to the school.
The company will also provide the additional paid leave for one day for parents of first-graders so that they can be with their children on this momentous occasion – the first school bell in the lives of their children.
"Investments in the future generation is one of the primary tasks for each of us: parents are responsible for a good upbringing and moral standards of their children, teachers are responsible for a full education, and the company, which rested social responsibility on itself, is in charge for decent living conditions for which everyone has the right", says Roman Tsukurov, Director for Human Resources and Social Affairs of PJSC «KHARTSYZSK PIPE».
Editorial notice

PUBLIC JOINT STOCK COMPANY «KHARTSYZSK PIPE PLANT» is the largest enterprise in CIS manufacturing longitudinal SAW large diameter pipes (508-1422 mm in diameter) with external anticorrosion and internal anticorrosion or flow coating for main oil and gas pipelines. Plant's facilities permit to manufacture more than 1.3 mln. tons of pipes per year, including 665 thous. tons of coated pipes.
An integrated Management System ensuring stable high quality of the products to the customers is functioning at KHARTSYZSK PIPE PLANT. ISO 9001, ISO 14001, OHSAS 18001, API Spec Q1, DSTU ISO 9001 and GOST R ISO 9001 create its foundation. Products of the plant are certified according to API, EN Standards and in the national system UkrSEPRO. KHARTSYZSK PIPE PLANT is a part of Steel and Rolled Products Division of Metinvest Group.

Metinvest is a vertically integrated mining group of companies owning assets in each link of the production chain from iron ore and coal min-ing and coke production through to manufacture of semi-finished and finished steel products, pipe rolling and coils as well as other value-added products. Group consists of mining, iron and steel companies, located in Ukraine, Europe and USA and has a sale network covering all key world markets. The major shareholders of Metinvest are SCM Group (71,25 % ownership) and Smart-Holding (23,75 % ownership) partnering in Company's management.

METINVEST HOLDING, LLC is the managing company of Metinvest Group.