20 July 2011 // Press-service Metinvest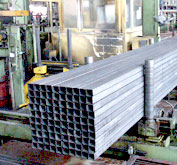 Metinvest SMC, a Metinvest's network of service metal centers in Ukraine and Eastern Europe, starts selling pipes of Ilyich Steel make at its warehouses. Since the third quarter Metinvest SMC has become the only Company selling the product through own network of service metal centers. The expansion of product mix at warehouses will enable to improve servicing and optimize logistic expenses of Company's clients.
Metinvest SMC ships the entire Ilyich Steel pipe products mix from its warehouses: round pipes DU10–DU100 (GOST 3262-75) and DN17–DN114 (GOST 10704-91, 10705-80). The pipes are produced with a mandatory bevel cutting to facilitate further fitting and ensure high-quality joints. Besides, the Company sells shaped tubes 20х15–100х80 mm (GOST 8645-68) and square pipes 20х20–80х80 mm (GOST 8639-82). All pipes can be produced with wall thickness 2 to 5 mm of commercial quality, structural and alloyed steel grades.
Pipes are produced on modern certified equipment, supplied by MANNESMANN DEMAG (Germany) and MORI MACHINERY CORPORATION (Japan). This enables the production of pipes not only in accordance with Ukrainian and Russian national standards (GOST), but also according to the international standards EN & DIN. Ilyich Steel is pro-active about expanding its pipe mix and is planning to launch the production of shaped tube 40х20 mm and 30х30 mm in the near future.
The diversification of warehouse product mix has opened up new opportunities for clients in construction, machine-building, oil-n-gas and agricultural industries as well as metalware mills. Optimal order picking is one of sales key aspects for client-oriented policy of Metinvest.
"Continuous expansion of product mix, optimum warehouse logistics and effective servicing for clients will make us a preferred supplier for Ukrainian consumers of rolled product. Our warehouse product mix was supplemented with high-quality pipes of Ilyich Steel make thus enabling us to consolidate orders more effectively. This is very important step for retail clients, first of all", - said Albert Avanesov, acting CEO of METINVEST SMC, LLC.
Editorial notice:

Metinvest SMC (network of service metal centers) -retail sales channel of the Sales Organization, Steel Division, Metinvest Group in Ukraine and Eastern Europe. The Company is dealing with sales of Metinvest Group products as well as of other Ukrainian and CIS enterprises. Presently, Metinvest SMC network includes 12 metal centers in Kiev, Donetsk, Dnepropetrovsk, Kharkov, Kremenchug, Krivoy Rog, Mariupil, Nikolayev, Odessa, Sevastopol, Simferopol. The range of products comprises of more than 900 items. Total volume of inventories exceeds 100 Kt of steel products.

Sales Service of Metinvest is represented by following Companies: Metinvest International SA — export of steel products outside Ukraine and to CIS, Metinvest SMC – sales of steel products through service metal centers in Ukraine and South-East Europe, Metinvest Eurasia - export of steel product to Russia, Metinvest Ukraine – sales of commercial steel product in Ukraine and export to CIS countries in batches from 65 tons and more.

METINVEST GROUP is an international vertically integrated steel and mining group of companies, operating assets in each link of the production chain from iron ore and coal mining and coke production, through to semi-finished and finished steel production, pipe rolling and coil production and production of other value-added products. The Group comprises mining and steel production facilities located in Ukraine, Europe and the USA and has a sales network covering all key global markets. Metinvest Group is structured into three operating divisions: Coke and Coal Division, Iron ore Division, Steel and Rolled Products Division and has a strategic vision to become the leading vertically integrated steel producer in Europe, delivering sustainable growth and profitability resilient to business cycles and providing investors with returns at above the industry benchmarks.
The major shareholders of the Company METINVEST B.V (a holding company of Metinvest Group) are SCM Group (71.25% ownership) and Smart-Holding (23.75% ownership) partnering in Company's management.

METINVEST HOLDING LLC is the managing company of Metinvest Group.